Japanese Traditional Craft
MATSUO TANAKA


He was born in Niigata Prefecture in 1943.
He grew up at a carpenter's home.
At the age of 15, he came up to Tokyo and apprenticed himself to a fittings craftsman.
In 1982 he established his own company, TATEMATSU, independently.
Especially he is good at making the workmanship of small pieces of wood.
We can see his work at Hama-Rikyu, Shibamata-Taishakuten,and Atami MOA Museum of Art.
He is the precious craftsman who makes those fittings by hand while mechanization progresses these days.
He is the member of the Edogawa Ward tradition technical meeting.
In 2006 he was recognized as an intangible cultural asset designated by Edogawa Ward.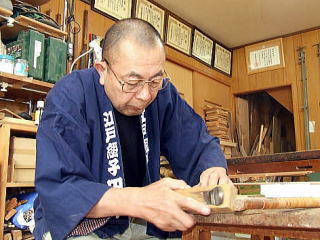 What's the KUMIKO-KOUGEI

Traditional Japanese house that symbolizes Japanese culture of the tree had fittings such as a fusuma (Japanese sliding door) and a shoji (paper sliding screen), etc.
And there were the craftsmen with the speciality of building fittings apart from the carpenters.
KUMIKO-KOUGEI is very beautiful woodworking.
It was born and developed in the process that adds fine workmanship to the frames of the shoji. It is the workmanship that the fine pieces of wood are combined and make up various patterns. We use no nail,no adhesive.
Those geometrical patterns made of fine pieces of wood stand for the shapes of flowers and snow,net,etc. We can get the feeling a sense of the season from those patterns. And also you can feel the wishes for happiness and wealth from them.
Originally, it is used for the ornament of fittings such as a ranma(transom) and a shoji, and called the highest work among the fittings craftsman's works. Its manufacture process is precise and requires perseverance. And the craftsmen have to know about "wood" very well.
Three Japanese major precious wood−The Kiso Hinoki(Japanese cypress), the Akita Sugi(cedar), the Aomori Hiba−are mainly used to make KUMIKO-KOUGEI. Also,the scarce wood such as the Yaku Sugi, the Jindai Sugi are used.
In recent years, we have challenged to make some new products which employed tradition efficiently−a byoubu (folding screen), an andon (a floor lamp), and accessories, for example.
Please feel Japanese tradition more familiar.


We give a demonstration and sell at the department stores in the country.
TAKAHIRO TANAKA


He was born at Tokyo in 1972.
He graduated in architect from Tokai University.
After graduation from university he was employed at a city planninng company.
And then he got a first-class registered architect in Japan.
When he was 26 years old, he left the company, he started work for craftsman.
He improves his skill as a craftsman under his father, Matsuo Tanaka.
He is groping for the way that should be of the tradition craft in the present age through the succession of tradition and the challenge to the production of a new thing that employed tradition efficiently.