Contact Us
SOUNIN Temple
Tokyo Taito-ku Higashi-Ueno 4-1-12
Phone 03-3844-3711
Please come by 18:20 If you are new. I'll tell you about "How to practice" at 18:30
 
Sat
Sun
Mon
Jun
8th
9th
10th
Jul
No service
Aug
No service

1st to 7th Rouhatu Zenkai.
1st and
2nd day
 19:00-20:30 Zazen
 20:30-Free talk with tea.
3rd day
 19:00-20:00 Zazen
 20:00-20:30 Lecture on Zen in Japanese
 by Daiyu Roushi.
 20:30-Free talk with tea.
●The Study of Zen Meditation for the Novice
Relaxing the heart/mind though meditation(zazen) is an important tenet in Zen Buddhism. The following is a brief explanation of the basic methods and rules of a meditatioh training session. We begin with the proper posture for the body.Sitting cross-Legged with both legs(full-lotus) or one leg(half-lotus) under you. tuck the heel of the top leg tightly under your belly. Sitting in a relaxed position during a meditation session is actually more tiring and painfu1, If the pain becomes unendurable during the session, it is all right to switch the position of your legs. Straighten your back. Slowly sway side to side and back and forth,until your body is centered and you have found the proper balanced position. This process is called, "Yoshin(揺振)".Concentrate your strength into your buttocks and hips,while relaxing the other parts of your body.Lengthen the back of your neck and tuck in your chin. Look straight ahead, focusing on about one meter in front of you. Do not close your eyes.
Cup the palm your right hand. With your left hand. lightly grip your right sliding your left thumb into the opening formed by your right hand.
With both hands palm up, form half circles with your thumbs pointing outward. Rest the left palm on the top of the right and then touch the end of the thumbs to each other.
Sounin
Gate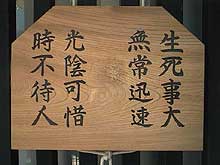 Neighborhood Map